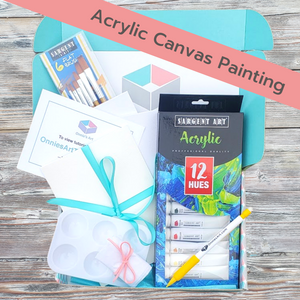 Explore multiple artistic styles with acrylic paints!  
Follow tutorials to create abstract, impressionist, realism, or landscape art... test out your skills in the styles of famous artists or use your artistic license to create your own paintings.
All Onnie's Art boxes provide guidance for first-time artists up to skilled hobbyists. 
Access to the Onnie's Art Community provides connection to others creating and sharing their art activities too.  Ask questions, share works-in-progress, display finished pieces, and make new friends.
Whether you're a caregiving professional, a (grand)child seeking an activity for (grand)parents, or an older adult looking for fun and relaxation, Onnie's Art boxes provide a unique, stimulating, and creative experience for older adults!
Acrylic Painting Activity Includes:
12 Acrylic paints

Paint brush set (6 flat brushes)
Reusable mixing palette

Onnie's Art pencil with eraser 

Two 5x7 canvas panels
Four 5x7 pages of canvas paper
Information card for accessing tutorials
Surprise gift!

Please note for this activity, you will need a cup of water, and a paper towel/napkin.