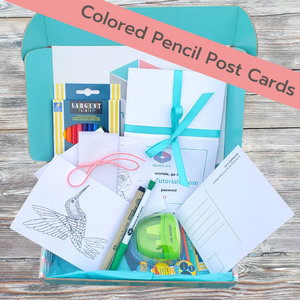 Relax and tap into creativity while having fun coloring postcards.  Finished postcards can then be displayed at home or mailed to friends and family. 
Follow tutorials that are made for all skill levels, or use artistic license to create own work.  
Four postcards have original art for coloring in and two are blank to expand upon skills learned and to encourage creativity. 
Access to the Onnie's Art Community provides connection to others creating and sharing their art activities too.  Ask questions, share works-in-progress, display finished pieces, and make new friends.
Whether you're a caregiving professional, a (grand)child seeking an activity for (grand)parents, or an older adult looking for fun and relaxation, Onnie's Art boxes provide a unique, stimulating, and creative experience for older adults!
Colored Pencil Postcard Activity Includes:
Colored pencils (12)

Pencil sharpener 

Fine tip black marker

Pencil with eraser tip 

Postcards with original art (black/white for coloring in)

Blank postcards to create own artwork

Sketchbook for practice and fun (including prompts for inspiration)

Information card for accessing tutorials

Surprise gift!