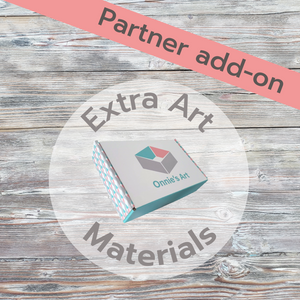 Will you be creating art with a loved one, providing support, or would just like some extra materials?
The Partner Add-on includes additional art supplies for two people to do the activities within one Onnie's Art Box!
This is an excellent option for families making art together in-person.  It's also a great choice for caregivers to create alongside the individuals they support.
In addition to the materials in the Single Box you select, the Partner Add-on will include:
Watercolor Greeting Cards: 3 round brushes, 5 greeting cards / 5 envelopes, OA pencil with eraser tip.
Colored Pencil Post Cards:  Second set of post cards, sketch book, OA pencil with eraser tip, black fine line pen. 
Acrylic Canvas Painting:  2 canvas panels, 6 flat brushes, OA pencil with eraser tip, reusable palette.
Enjoy creating together! 
*** If adding on to the "Set of 3 Assorted Boxes", please add 3 Partner Add-ons to your cart for check-out ***